Let me say right off the bat that this blog is not necessarily about Colin Kaepernick.  But the situation did remind me of this topic, which I've been meaning to discuss for awhile.  I wasn't necessarily surprised by the coverage Kaepernick got (late summer is a slow period for sports), but more so by the public backlash.  Perhaps patriotism isn't as dead as I thought.  But, it's very interesting how media and society pick and choose the athletes that they scrutinize.  There are athletes who do something wrong, yet the punishment in the court of public opinion doesn't fit the crime.  They are destroyed for acts that, in the grand scheme of things, are not that big of a deal.  Then there are athletes that can do no wrong, where their popularity and charisma trumps all.
A-Rod vs. Big Papi
Alex Rodriguez
For much of his career, Rodriguez was the most hated man in baseball.  He was booed out of every stadium, at times even his home stadium.  A-Rod took steroids and damaged the integrity of the game.  He fought the system hard knowing very well he was guilty.  However, whether you cite the Mitchell Report or the Biogenesis scandal it's clear that hundreds of players used performance enhancing drugs.  But Rodriguez, perhaps unfairly, became the poster boy for PEDs.  A-Rod supporters called it a witch hunt.  Rodriguez mentored young players like Robinson Cano and Aaron Judge.  He had an intense passion for the game and was known to stay up after games watching MLB teams on the west coast play. But tabloids like the one shown below would never mention that.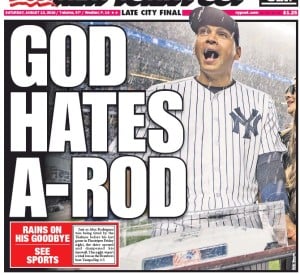 David Ortiz
Ortiz's name was also linked to steroid use .  For whatever reason it is overlooked by most fans.  Big Papi is retiring at the end of the season and in the meantime is enjoying a farewell tour when visiting opposing ballparks.  This particular steroid user is being showered with gifts as he bids adieu to the game of baseball.  Ortiz is a beloved baseball personality and appears in numerous commercials.  But in the end, is he any less guilty than A-Rod?
Lebron vs. Kobe
LeBron James
LeBron will never live down The Decision.  The Decision was a special ESPN broadcast in which LeBron would decide where he would 'take his talents.'  After carrying the likes of Larry Hughes, Mo Williams, and Daniel Gibson deep into the playoffs, he announced that he would now play with Dwyane Wade and Chris Bosh.  For this he was considered a traitor to his hometown of Cleveland and arrogant for making his choice on live TV.  This led to infamous jersey burnings and backlash among many fans, not just those in Cleveland.
When you step back and analyze the situation, the hate for Lebron is outrageous.  The talent around James in Cleveland was absolutely horrendous, so he decided to play with his All-Star buddies in Miami.  By the way, The Decision TV broadcast raised $2.5 million for charity, but that's not an interesting headline or news story.  Lebron married his high school sweetheart and has three kids.  You never hear about adulterous behavior or quite frankly any bad behavior with Lebron.  He is one of the most charitable and philanthropic athletes in the league.
Kobe Bryant
The Kobe Bryant sexual assault case and the Kobe-Shaq feud each have their own Wikipedia page.  But again, it's another example of athlete scandals that are forgotten.  He wasn't always considered the best teammate, perhaps a victim of his own work-ethic and competitiveness.  But that's not what we remember.  We remember 81 points against Toronto, 60 points in his final game, five NBA titles, 18 All-Star appearances, and a slam dunk title.  It's clear that Kobe's transgressions greatly outweigh Lebron's, but wouldn't you agree that Kobe is by far the more popular athlete?
T.O. vs. Marvin Harrison
Terrell Owens
T.O. was loud, obnoxious, polarizing, and a bad teammate.  Say what you want about Owens, but he never got in trouble off the field (sans for child support payments, apparently the dude is broke).  No DUIs, no domestic violence, no drugs, always showed up in shape and ready to perform.  Football players like Brett Favre and Ben Roethlisberger are often praised for their toughness, but what is often forgotten is that Owens caught nine passes in the Super Bowl just weeks after breaking his leg.  He was killed by fans for his tendency to drop passes, choosing to ignore the fact that he often played games with broken fingers.
Marvin Harrison
I originally had Ray Lewis as the opposition for Owens, but I'm going to do you one better.  The Ray Lewis murder story is well-documented, but not everyone knows about Marvin Harrison's troubles.  Marvin Harrison has been linked to the murder of Dwight Dixon, which was chronicled in this ESPN E:60 piece.
https://www.youtube.com/watch?v=Znv-Pm5bRuA
Harrison and Owens are linked because both are elite wide receivers that were eligible for the hall of fame this past year.  Harrison was elected despite being widely considered the inferior player.  Owens has more receiving yards and touchdowns than Harrison, and played with lesser Quarterback talent.  Numbers aside, the 'eye test' would show that Owens was a more dominant and game changing player than Harrison.
DC vs. Bones Jones
Daniel Cormier – Criticized for a boring style of fighting.  Respected by his peers, talented analyst for Fox Sports, but guaranteed to be booed if his face is shown during an event perhaps due to his rivalry with the next man on this list.
Jon Jones – Hit a pregnant woman's car and fled the scene.  Failed drug tests for cocaine and PEDS.  Refused to fight Chael Sonnen on short notice which led to the cancellation of UFC 151, the first event to ever be cancelled.  Yet still one of the most popular fighters in the sport.
Tebow vs. Manning 
Tim Tebow – One of the most polarizing figures in sports due to his faith and unusual style of play.  Someone unfamiliar with Tebow may assume that he is polarizing because he pushes his Christian beliefs to the public, but he really doesn't do that.  He is the MVP of intangibles; great person, teammate, charitable, hard worker, and leader.  Let's be honest, Tebow probably should be on an NFL roster.  The read-option formation is still heavily used, and despite not having the greatest mechanics Tebow is still a threat to both run and pass.  However, the media coverage that comes with Tebow scares most teams away (aside from perhaps the Atlanta Braves).
Peyton Manning – Everyone loves Peyton Manning.  He's one of the best Quarterbacks ever.  He's funny, charming, and in every TV commercial known to man.  When he was accused of having HGH sent to his house under his wife's name, it got ZERO attention.  Whether it's true or not is almost irrelevant, but this is a perfect example of how the media controls what we deem as important.  If HGH was sent to Tom Brady, do you think it would be ignored?